WHEREVER YOU ARE. ALWAYS BE EQUIPPED WITH THE BEST TECHNOLOGY.

Our power tool can help you achieve the portable "invisible joint". Outer radii, inner radii, bevelled edges and cut-out quadrants can be made easily.
KANTENKING® works excellently both as a stationary machine as well as a power tool. Applications that seem impossible on large stationary machines (e.g. cut-out interior quadrant…) can be performed using the portable KANTENKING®. Free-form parts and even bevelled edges are a speciality of this all-rounder equipment. Installing this flexible machine directly at the customer's site is child's play. Experience this new quality for yourself!
Performance data of the unit
Edge thickness:
Edge height:
El. connection:
Power:
Weight:
Heating-up time:
Feed rate:
Depends on the machine
up to 65 mm
230 V / 50 Hz
2 kW
14 kg
approx. 20 mins
up to 4m/min
(depending on the edge type and width)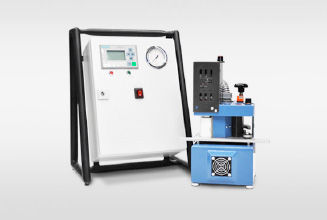 Function
The portable Kantenking combines the advantages of a normal, straight edge bander and a machining centre in terms of invisible joints in the smallest possible space. Edge feed controlled by the work piece activates the functional layer. Work piece and edge are joined into one unit in the pinch roller area. There are no limits to how creative you could be while designing and shaping various kinds of work pieces.

Efficiency
Unbeatable price-performance ratio while processing free-form parts and bevelled edges with invisible joints.
Use portable Kantenking as stationary edge bander: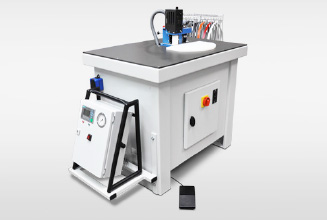 MOULDING BENCH
Moulding bench for tool-less attachment of KANTENKING® and the control system. Furthermore, you can also expect edge entry and automatic cutting via a foot-operated switch.