BRING YOUR EDGE BANDER UP TO SPEED WITH STATE-OF-THE-ART TECHNOLOGY AND REAP THE BENEFITS.

Please get in touch with us if you require speeds greater than 20m/min so that we could offer you the optimum product as per your ideas and suggestions.
Performance data of the unit
Edge thickness:
Edge height:
El. connection:
Power:
Weight:
Heating-up time:
Feed rate:
Depends on the machine
up to 65 mm
380 V / 50 Hz
custom
custom
approx. 20 mins
more than 20m/min
(depending on the edge type and width)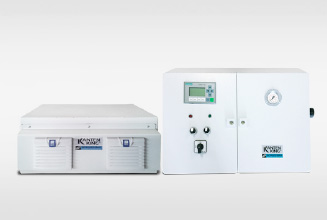 Function
The Hot Air System has been designed after years of research. It is responsible for the production and targeted delivery of hot compressed air on to the functional layer of the edge. This procedure, which has been researched and developed in Germany, enables selective melting of the functional layer of the invisible joint edges. Plenty of implementation details make KANTENKING® an indispensable piece of equipment for creating invisible joints; Made in Germany
Efficiency
All commercially available edges with "functional layer" can be processed.
The unit can simply be integrated into any existing edge bander, WITHOUT interfering with the machine controls.
Always get the optimum "glue quantity" through a uniform "functional layer".
Visually perfect results: Harmonic shades with "invisible joints".
Easy colour change.
Technically perfect results: Higher durability and water-resistance than in conventional adhesives.
Protection for your downstream units.