RETROFIT A MACHINING CENTRE WITH LASER EDGING

Invisible joints everywhere; and for moulded parts?
Bring your machining centre up to speed with state-of-the-art technology for invisible joints with the professional upgrade by Schugoma System GmbH. We would be glad to assist you in planning this pioneering technology in your company.
Performance data of the unit
Edge thickness:
Edge height:
El. connection:
Power:
Weight:
Heating-up time:
Feed rate:
max. 3 mm
up to 65 mm
380 V / 50 Hz
max. 9 kW
30 kg
approx. 20 mins
up to 15m/min
(depending on the edge type and width)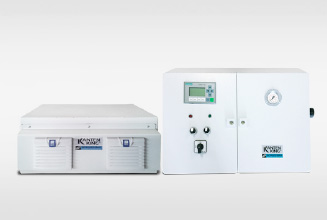 Function
Tasks which were done by your glue pot in the past are now carried out using the Hot Air System in combination with invisible joint edging. Furthermore, the Hot Air System gives you the option to process even the most challenging moulded parts, as the Hot Air System gives the edging material the desired pliability.
Efficiency
Offer your customers quality like never before.
With increased quality and reliability, you can expect considerably quicker payback times than with investing in new machines.