THE SOPHISTICATED MOULDING MACHINE WITH INVISIBLE JOINTS
Ideal extension to any CNC machine.
Move invisible joint edges on free-form parts with any kind of contours. Highest productivity, as the gluing on and the smoothing of the edges takes place at two different positions. Semi-automatic board and edge guide ensures uniform feed rate and, therefore, consistently good processing quality.
Performance of the moulding machine
Edge thickness:
Edge height:
El. connection:
Power:
Weight:
Heating-up time:
Feed rate:
up to 3 mm
up to 65 mm
380 V / 50 Hz
12 kW
700 kg
approx. 20 mins
max. 4m/min
(depending on the edge type and width)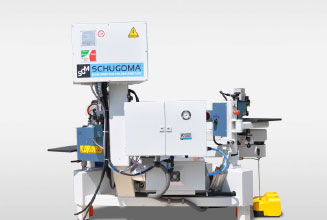 High-performance KANTENKING unit with moulding machine
Function
The vacuum clamping chuck holds the work piece securely. The swivelling support board is used for processing the smallest work pieces. The laser barrier scanning guarantees perfect length adjustment resulting in a clean butt joint in closed contours. Length pre-selection ensures easy operation with normal work pieces.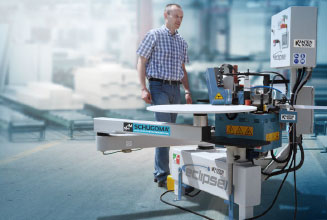 Easy, flexible operation
Handling moulded parts with laser edging was never so easy.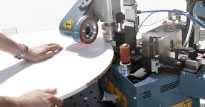 Board is taken in by the vacuum bench
The flush milling unit copies the work piece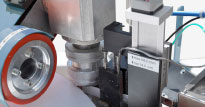 HOT AIR-SYSTEM nozzle