TECHNOLOGY BY SCHUGOMA –
YOU CAN RELY ON IT.
"Made in Germany" quality for edges since 2003. Always keeping our finger on the pulse of progress, or even being a step ahead! This is our motto and what our customers appreciate.
INVISIBLE JOINTS TECHNOLOGY WITH HOT AIR SYSTEM
Instead of hot-melt adhesive, a new type of edging is generated, which can be processed entirely without hot-melt adhesives. It is done to some extent only using the Hot Air System. In addition to invisible joints, the users and the end-customers can expect stability, high heat resistance, better moisture resistance and a whole range of other benefits.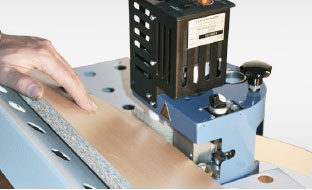 PORTABLE TECHNOLOGY AT ITS BEST
SGM Schugoma GmbH is the first supplier in the world to successfully carry out portable processing of invisible joint edges. This reliable technology is widely recognised and valued by users.