Der Kantenking® THE LOW-PRICED EDGE PROCESSING SOLUTION FOR THE SMALL TRADE

Your edge bander is still "in good shape", however you have heard a lot about invisible joints and wonder whether it is also suitable for your business. Since 2009 invisible joint edges have come to be widely used so the Hot Air System will therefore be indispensable in the future. Not only the users, but mainly the end-customers are increasingly demanding this high quality.
Be numbered among the pioneers and leave the beaten track!
Contact us to receive comprehensive information on this topic.
Optimised workflow.
KANTENKING® fits in harmoniously with your machine not only visually but also functionally. Increase the productivity and quality of your edge bander.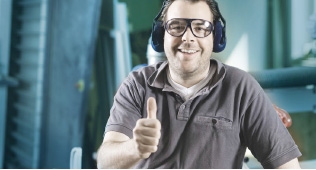 Customisations.
Let us know what you want. We will provide you with the solution and the result.
Numerous satisfied customers work with Schugoma System technology. From sole proprietors of small trade companies to industrial enterprises with several hundred employees.
It's time to use the technology of large companies.
The sky is the limit when it comes to quality.
Industrial specifications can now also be implemented in small trade. Design your future:
With the invisible joints from Schugoma System GmbH.